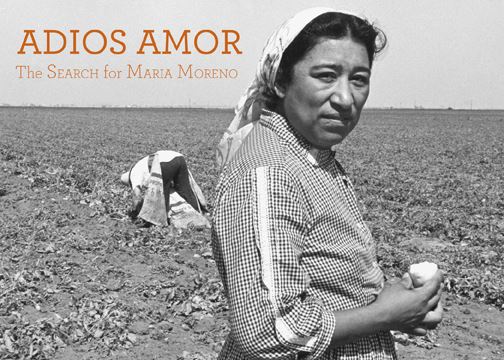 A version of this post originally appeared on New Media Rights' blog on December 3, 2019.
New Media Rights attorneys and California Western School of Law students recently worked on "Adios Amor," a powerful documentary by Jane Greenberg and Laurie Coyle that debuted on PBS this fall.
In "Adios Amor," the discovery of lost photographs sparks the search for a hero that history forgot—Maria Moreno, a migrant mother driven to speak out by the hunger of her 12 children. Years before Cesar Chavez and Dolores Huerta launched the United Farm Workers, Maria picked up the only weapon she had—her voice—and became an outspoken leader in an era when women were relegated to the background. The first farm worker woman in America to be hired as a union organizer, Maria's story was silenced and her legacy buried—until now.
Documentaries often need a variety of legal services, from hiring a crew, to copyright, fair use and licensing, to distribution agreements. New Media Rights works with a variety of documentary and fictional video creators to overcome the legal hurdles to making their productions a reality.
"We are grateful to New Media Rights for their review and Fair Use opinion letter of our documentary film," said Laurie Coyle, director/producer, and Jane Greenberg, co-producer. "The clinic stuck with the review despite our extended timeline. Staff was extremely knowledgeable, thorough and professional and saved us money. Our E&O underwriter accepted the review without question. We would gladly work with New Media Rights on future projects and highly recommend the clinic."
New Media Rights Executive Director Art Neill said his organization and students were "proud to have helped on the legal side to ensure that Maria Moreno's story reaches the public. The film tells a largely unheard but important story about a mother and advocate who played an important role in advancing farmer workers' rights."
New Media Rights student fellow Alexandra Inman, currently a third-year student at California Western School of Law, worked with Neill on this project.
"As someone who aspires to work in entertainment law, it is a great experience to work through a fair use review for a documentary filmmaker," Inman said. "It's wonderful to practice on something that is often discussed in an interview in entertainment law and is not a common experience for a law student. Working alongside a filmmaker as they are turning their ideas into a final product to be enjoyed by a broad audience is an exhilarating experience that encourages practice of many of the client engagement skills we learn throughout law school while actively advocating for the creative ideas of our client."