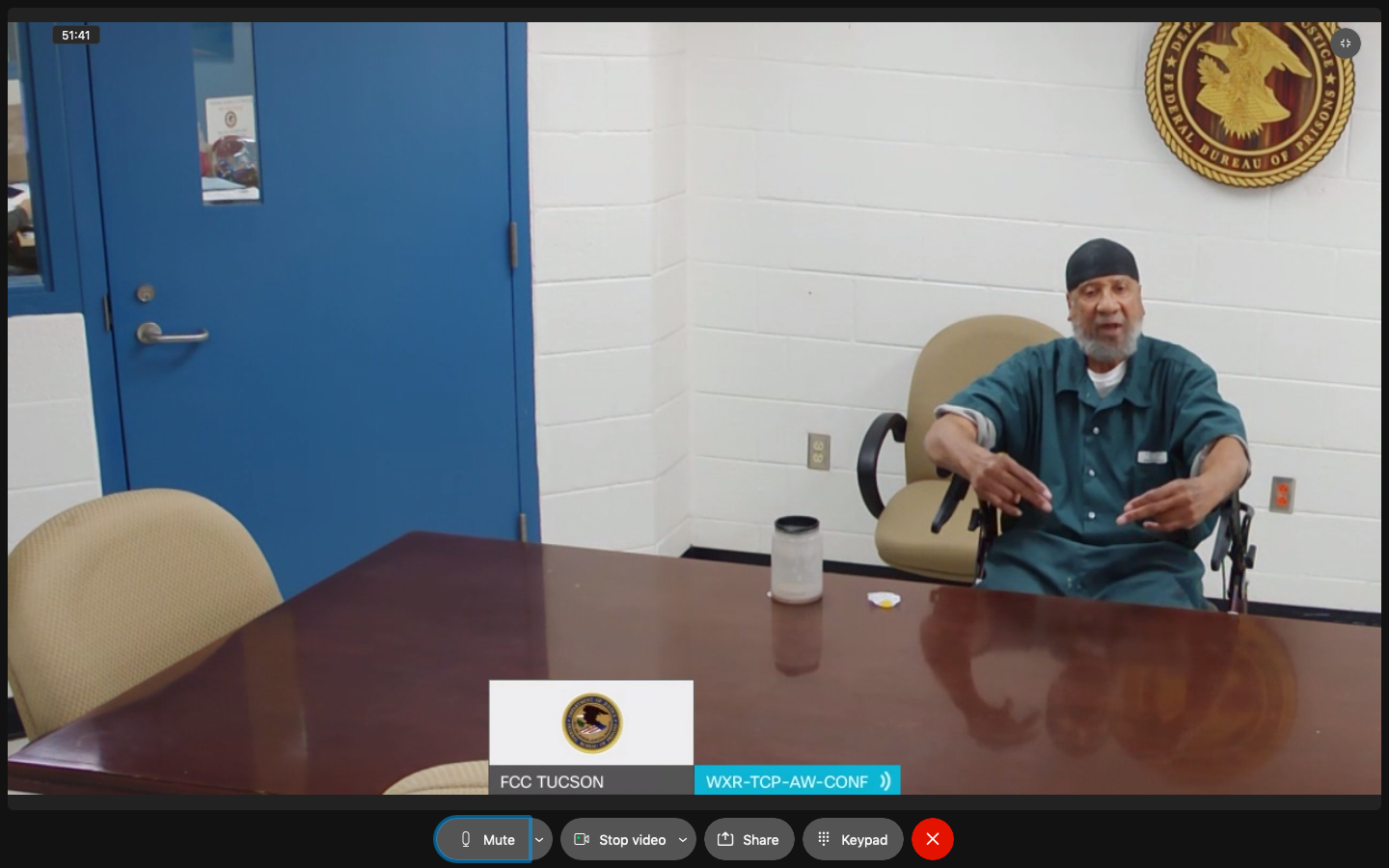 The First Amendment Clinics at Arizona State University's Sandra Day O'Connor College of Law and Cornell Law School secured access last week to in-person interviews with the incarcerated civil rights leader Jamil Al-Amin, formerly H. Rap Brown, on behalf of scholar and journalist Dr. Arun Kundnani.
Prior to the Clinics' involvement, Dr. Kundnani had made three separate unsuccessful interview requests to the former warden of the Federal Correctional Complex, Tucson, where Mr. Al-Amin is housed. The former warden denied access to Mr. Al-Amin in part based on his determination that an interview with the nearly-blind septuagenarian would purportedly re-elevate his status at the prison and disturb the good order of the institution.
Mr. Al-Amin played an important role in the civil rights movement as the chair of the Student Nonviolent Coordinating Committee. Decades later he was convicted of murder and sentenced to life in prison without the possibility of parole after two deputies were shot near his grocery store and one died. Mr. Al-Amin and his supporters continue to maintain his innocence.
Dr. Kundnani sought interviews with Mr. Al-Amin to complete his research for a book chronicling Mr. Al-Amin's life. Without access to Mr. Al-Amin, there would have been a substantial risk that major events pertaining to his civil rights work, including his activities during a nineteen-month period when he operated in secret, would never be recorded.
After the Clinics demanded access on First Amendment grounds and promised to pursue legal action if the renewed request was denied, a new warden granted Dr. Kundnani telephone and video interview access to Mr. Al-Amin this spring and in-person access this summer.
"I cannot convey how grateful I am for the work the Clinics did to make this happen," Dr. Kundnani said. "The interviews were fantastically useful, and I feel like, with the earlier phone calls, I've now had sufficient access with Jamil Al-Amin to do justice to his story."
Dr. Kundnani is the author of The End of Tolerance: Racism in 21st Century Britain and The Muslims are Coming! Islamophobia, Extremism, and the Domestic War on Terror. His book on Mr. Al-Amin aims to explore the life of the former chair of the Student Nonviolent Coordinating Committee, including his activism, convictions, and the governmental institutions that surveilled him.
"We are thrilled that our Clinic students could assist Dr. Kundnani in his work on one of the great untold stories of the civil rights era," Heather Murray, Managing Attorney of the Cornell Clinic's Local Journalism Project, said. "Too often prison officials around the country deny requests to prisoner interviews arbitrarily. We are pleased that Warden Catricia Howard chose to reverse the prior denials after we renewed Dr. Kundnani's request."
"Cases like this concerning matters of great public interest and concern demonstrate why access to prisoners is so important," ASU Clinic Director Gregg Leslie said. "And journalists need access not only to interview prominent prisoners, but also to cover, for example, the conditions of confinement during COVID-19 outbreaks and the effectiveness of their rehabilitative programs. Dr. Kundnani's story about Mr. Al-Amin's life will be an important work that never should have been thwarted because previous prison officials were not willing to let a prisoner talk."
Cornell students Salvadore J. Diaz, Steven Marzagalli, and Jamie Smith and ASU students Parker Jackson and Priyal Thakker worked on this effort. Former Cornell Clinic Associate Director Cortelyou Kenney and former ASU Fellow Laura Layton supervised the students' work alongside Leslie and Murray.