Newsletter: Three new First Amendment clinics launching next year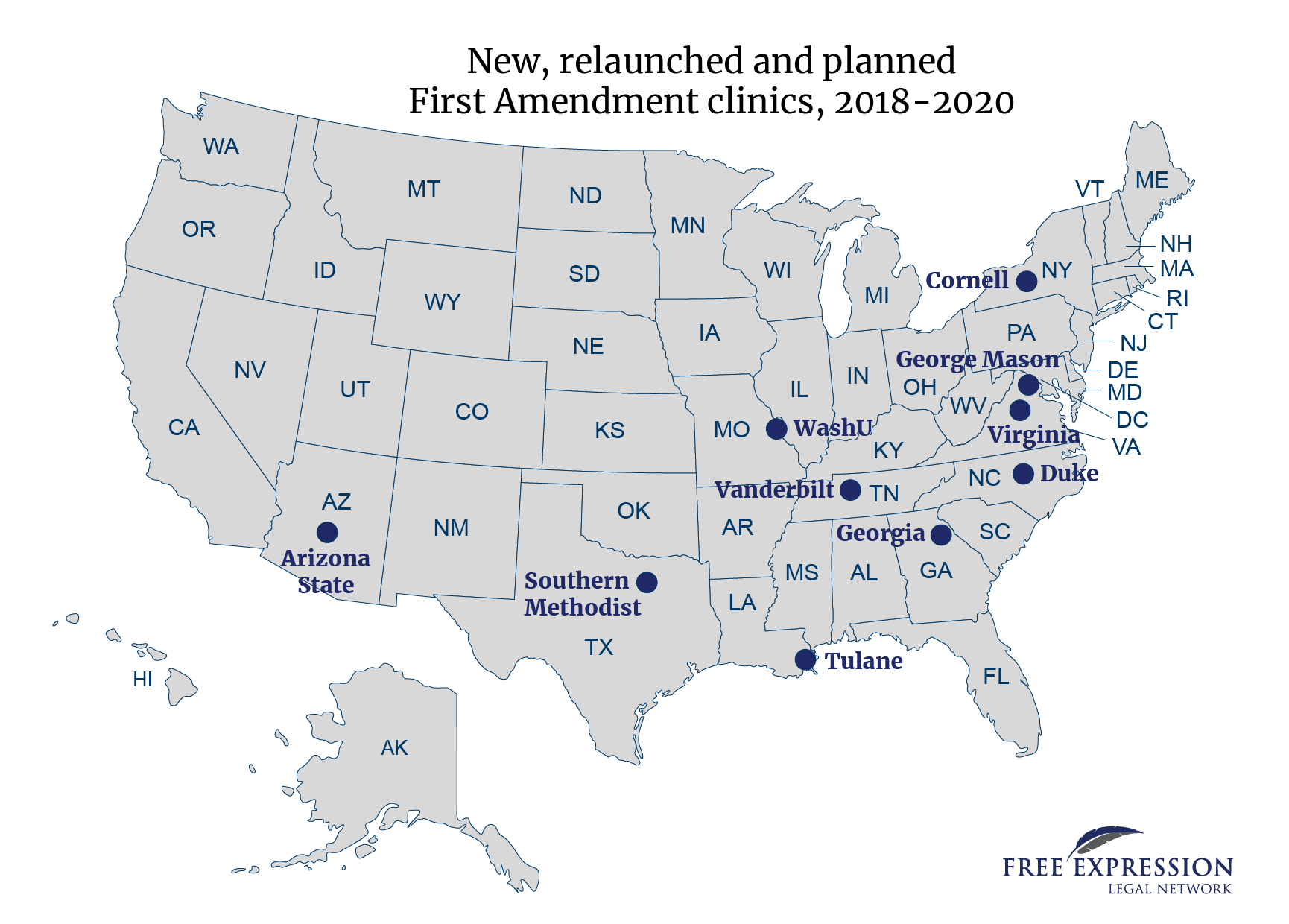 Editor's Note: This post was updated on Nov. 27, 2019, to add two additional news items.
Welcome to the inaugural newsletter from the Free Expression Legal Network, a coalition of law school clinics, law professors and others working on free speech, free press and government accountability issues. This newsletter will highlight the important work done by our members and others in this space. We'll be experimenting with content and timing over the next few months, so please let us know what you think.
Sign up for our monthly newsletter here.
Three new First Amendment clinics launching next year
Law schools at Tulane University, the University of Georgia and Southern Methodist University have recently announced they will add First Amendment clinics next year, thanks to grants from the Stanton Foundation.
The clinics will allow students to represent clients in matters related to the First Amendment rights of speech, press, petition and assembly. Tulane and UGA will be hiring directors, while SMU has appointed Tom Leatherbury as director of its clinic. [Read more]
Tulane, UGA and SMU will join a number of clinics launched recently to work on First Amendment issues. Stanton, for example, has also helped start First Amendment clinics at the University of Washington at St. Louis, Arizona State University, Cornell University, Duke University, and Vanderbilt University, all within the past couple years. The University of Virginia also re-launched its First Amendment Clinic this year in partnership with the Reporters Committee, and George Mason University started a Free Speech Clinic in 2018.
With these 10 new, relaunched or soon-to-launch clinics since 2018, there are now more than a dozen clinics focused exclusively on First Amendment and/or government transparency issues. There are also more than a dozen other clinics, focused on tech law, intellectual property or other subjects, doing significant work in this space.
Enter the Free Expression Legal Network, which helps many of these clinics collaborate and share resources and other tools. The FELN website highlights some of the clinics' work, and we'll use this newsletter to do that too.
+ See also: FELN's public launch sparked coverage by Law.com on the increasing number of these law school clinics
+ ICYMI: FELN formally launched in September with 22 clinic members and more than two dozen law professors
Recently on FreeExpression.law
UC-Irvine's Intellectual Property, Arts, and Technology Clinic won disclosure of child services records earlier this year, revealing how social workers failed to protect a 10-year-old Los Angeles boy from years of alleged physical abuse, eventually ending with his death and murder charges being filed against his mother and her boyfriend. [Read more]
The Harvard Cyberlaw Clinic announced the Initiative for a Representative First Amendment, a fellowship program for legal practitioners and practitioners-in-training who exist at the intersection of multiple marginalized identities. The Initiative will provide stipends for fellows to work at legal clinics specializing in First Amendment or freedom of expression work. [Read more]
+ See also: Harvard's initiative is one of four grants made during the first round of the Legal Clinics Fund
The Cornell First Amendment Clinic also received support from the Fund to expand its Local Journalism Project, which provides pro bono representations to investigative journalists and news outlets that cannot otherwise afford representation. So far, the clinic has represented a New York newspaper alleging First Amendment retaliation for publishing critical editorials of its local government's decision to disband the paid fire department, and also uncovered potential violations of open meetings laws by this same government. It has also helped a freelance journalist separately obtain documents related to rape kit testing. The clinic will hire a full-time staff attorney to help teach students as well as oversee cases as part of the Project.
American University's Glushko-Samuelson Intellectual Property Law Clinic recently provided intellectual property counseling on the PBS documentary film "Look Who's Driving," about self-driving vehicles. [Read more]
In the News
>> As VTDigger reports, the Cornell First Amendment Clinic's ongoing representation of the Vermont news outlet helped uncover missing documents related to the nation's largest EB-5 scandal. (EB-5 is a federal program that allows foreign investors to obtain green cards in the United States in exchange for investing a minimum of $500,000 for the creation of 10 jobs in economically impoverished areas.) The State of Vermont admitted it could not find emails from one of the top officials who oversaw the state's administration of the EB-5 program, and was unable to explain what happened to these emails. In part due to Cornell's efforts on VTDigger's behalf, the state conducted an audit of its email system and uncovered a missing external hard drive with additional documents, which it produced.
>> The St. Louis American writes that the First Amendment Clinic at Washington University represents a woman who alleges that a police officer violated her First Amendment rights when he took her cellphone while she was videoing an arrest.
>> KPNX-12 News in Phoenix reports on documents from the Arizona Public Service, which the ASU First Amendment Clinic helped them obtain. The internal customer survey results contradict the public utility's claims that most customers were satisfied with the company.
>> The Associated Press notes that the ASU First Amendment Clinic also helped the AP gain access to the 2017 findings of a court-appointed investigator re-examining misconduct investigations by the office of former Maricopa County Sheriff Joe Arpaio. The AP reports that the documents show, among other things, that Arpaio's aides ignored a court's order to stop immigration sweeps that targeted Latinos.
>> Courthouse News Service writes that the University of Virginia First Amendment Clinic argued on behalf of the Virginia Press Association that a $50 million defamation by implication lawsuit by actor Johnny Depp against his former wife could have a chilling effect on the state's news organizations. The proposed amicus brief was also covered by the Associated Press.
>> The Richmond Times-Dispatch explains that the Yale Media Freedom & Information Access Clinic represents the newspaper and other news media organizations in suing the Virginia Department of Corrections to allow citizens and journalists to witness executions in the state from start to finish. The lawsuit was also covered by the Associated Press.
FELN Job Board
A number of positions, including clinical staff, fellowships and a summer associate position, are listed on the FELN Jobs Board. Contact each organization directly with questions or to confirm the position is still open.
If you have a job posting of interest to clinicians or students, email it to jmoore (at) rcfp.org.
Other Recent Work
The Intellectual Property, Arts, and Technology Clinic at UC-Irvine is representing the First Amendment Coalition in a motion to unseal records in the criminal case against a man charged in the stabbing death of a teenager at a Bay Area Rapid Transit station in Oakland.
In Dr. Seuss Enterprises v. ComicMix LLC, a Ninth Circuit case concerning copyright fair use, Berkeley's Samuelson Law, Technology & Public Policy Clinic filed an amicus brief, and the Harvard Cyberlaw Clinic filed an amicus brief as well.
Yale's Media Freedom and Information Access Clinic filed a lawsuit challenging a Texas statute making it a crime for journalists and others to use drones for newsgathering and similar activities. The suit is on behalf of the National Press Photographers Association, the Texas Press Association and an independent journalist.
Duke's First Amendment Clinic filed an amicus brief asking the U.S. Supreme Court to take up Butler v. Board of County Commissioners for San Miguel County, which involves the First Amendment's application to government employee speech.
+ See also: The First Amendment Clinic at Washington University also filed an amicus brief in Butler on behalf of a group of First Amendment scholars, many of which are non-clinician members of FELN.
The University of Virginia's First Amendment Clinic filed an amicus brief on behalf of the Reporters Committee in support of a motion to dismiss by Daniel Hale, a former Air Force service member being prosecuted for allegedly leaking classified documents about the "targeted killing" drone program.
FELN Repository
New resource
History of the First Amendment Lecture: Gabe Rottman, director of the Technology and Press Freedom Project at the Reporters Committee who also teaches the First Amendment Clinic at the University of Virginia School of Law, recently gave an hour-long lunchtime lecture (to both lawyers and non-lawyers) on the history of the First Amendment. This lecture is now available for FELN members to download and share with students in whatever way that may be useful.
Syllabi
Over the summer, we added additional syllabi to the repository as well. A number of members used these examples while they were creating or modifying their syllabi for this academic year.
+ Contribute: Take a moment to share your current syllabi (and any other internal documents, court documents, etc.) by emailing jmoore (at) rcfp.org. That's also how you can get the password to the member-only folders.
At the Supreme Court
A number of clinics recently filed amicus briefs at the U.S. Supreme Court in Georgia v. Public.Resource.org, which asks whether annotations in the Official Code of Georgia Annotated are copyrightable. The Supreme Court will hear oral arguments Dec. 2.
Share your news with us
🗞️ Keep us in the loop on what your clinic is working on so we can share it on FreeExpression.law or in this newsletter (deadline for next month's newsletter is Dec. 12): jmoore (at) rcfp.org
💬 We would love to hear your ideas, feedback or questions about this newsletter: jmoore (at) rcfp.org
👥 Think someone else would enjoy this newsletter? Forward it to a colleague. They can sign up here.
This newsletter was compiled by Josh Moore at the Reporters Committee for Freedom of the Press.